DJ "G"/ Greg Parmerton'sI apologize to all for once again being late with this posting,
I was helping out the wanna dance records site.

MONTHLY

TOP 10 NYC

SONGS:
October 1998
Due to preformance licensing requirements on the internet this site cannot provide you "soundbites"or RA clips. Sorry, but it's the law.
#----------Title-------------------------------------Artist------------------------------------(view to here>)
1
Crush (remix)
Jennifer Paige
2
Fire
Des'ree
3
Uhh!
Joe Louis Walker
(from Kenny Wetzel, Los Angeles)
4
The Ironic Twist
JimmieVaughan
5
Bad Case of Love
B.B. King
6
In the Mood to Party
Groove and the Gang
7
When The Lights Go Out
Five (from DJ Mez, Boston)
8
Unspeakable Joy (hustle)
Kim English
9
Special Love
Universal Mother
10
Stay (remix single)
Temptations

Bubblin' Under: (or stuff I thought was cool)
11
Sometimes
The Brand New Heavies
12
Take My Breath Away
(+4%)Night Club 2 step
98°
13
Connected (+2%)
Stereo MC's
14
Blue Monday Blues
Big Joe Maher
15
Remember When (Club Remix)
cue to 1:04
Color Me Badd
16
That's the way Love is (+4%)
Norman Brown
17
I'm Going All the Way (remix)
Sounds of Blackness
18
Movin' On Up (Tee's Freeze Mix) cue to 0:38
M People
19
Chains ( Moran S&M remix) hustle
Tina Arena
(from Robert Cordoba, LA)
20
Funk On Ah Roll (+8%)
James Brown
---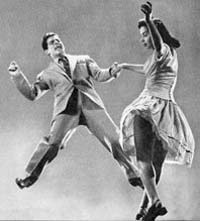 "Retro Swing" Hot Shots:
The "new" craze that's shaking the nation's youth into swinging again.
Just about any Up tempo Louis Jordan tune will work on this crowd of dancers.
Just drop in a slow one now and then (about every fifth song) to let the 'ol ticker return to a managable pace.
Many new bands are picking up on this money making group of dancers who come out in droves 500+.
The kids (and aging hipsters) are avoiding becoming their parents by becoming their grandparents
( I love that line). Anyway, here's a half dozen of the tunes I played at Midsummer Night Swing at Lincoln Center.
| | | |
| --- | --- | --- |
| Big Mamou | Mighty Blues Kings | |
| High Ballin' Daddy | Blues Jumpers | |
| Work Baby Work | Royal Crown Revue | |
| That's Where My Money Goes | Indigo Swing | |
| Rockin' At Midnight | Honeydrippers | |
| So Long | Indigo Swing | |
| Medley: Swing It | Ray Gelato and the Giants of Jive | |
---
Country Corner


Cha-Cha
WCS
(92 Bpm)
OR
2-Step
(184 Bpm)
2-Step
Cha-Cha
Polka
---
HOT Latin Picks:


Afro-Cuban All Stars
"A Toda Cuba le Gusta" album
Nonesuch 79476-2 (Call: 1-800-ASK TOWER)
Great choice for authentic Cuban style guaguanco Mambos and Guajira Cha-cha's*****


Africando
"Baloba!"
Sterns STCD 1082 (Call: 1-800-ASK TOWER)
Very Fast mambo/salsas with two great tunes "Demal" @ 137 Bpm & "Dacefo" @ 174 Bpm with great Clave****



---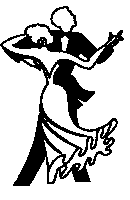 Ballroom Pick:


Casa Musica presents
The Best of Ballroom Music Vol. 14 (original artists) album
CM-CD 014
Contact Dance Trax 517-799-0348
Great original artists at perfect ballroom speeds! What more could you ask for?


Click here to E-Mail DJ "G"


National Association of
Rhythm & Blues Dee Jays


TOP 40 of all time
Top West Coast Swing songs

BACK TO INDEX