DJ "G"/ Greg Parmerton's
MONTHLY

TOP 10 NYC

SONGS: August 1998
Due to preformance licensing requirements on the internet this site cannot provide you "soundbites"or RA clips. Sorry, but it's the law.
#----------Title-------------------------------------Artist------------------------------------(view to here>)
1
The Ironic Twist
Jimmie Vaughan
2
Blue Monday Blues
Big Joe Maher
3
Looking For My Baby
Big Wheeler
4
Who is He?
Ronnie Barnes
5
Too Close
Next
(from John Fink, NYC)
6
Shakin' the Shack
Big John Dickerson
(from Eric Remsen, Twin City Rebels)
7
Honky Tonk Song/Honky Tonk
In Wise Hands
8
Too Much Drink
( not enough sleep)
Fantastic Shakers
9
My All (Morales remix)
Mariah Carey (from Pam Mixon,Chicago)
10
Spontaneous Combustion
Fishbelly Black

Bubblin' Under: (or stuff I thought was cool)
11
My Babe
Kenny Neal
12
Stop Thinking Take (Start Thinking Give)
Darrell Nulisch
13
Ain't That A Groove
Billy Larkin
14
Skip Tracer (+4%)
Four80East
(from Pam Mixon,Chicago)
15
Imagine This (+4%)
DJMJ (from Pam Mixon,Chicago)
16
In the Mood to Party
Groove and the Gang
17
Tight Skirts
Floyd Dixon
18
The Peoples Choice
Harold Ousley
19
If you want me to stay (+5%)
Etta James
20
Keep It To Myself
Ted Cash (from Pam Mixon,Chicago)
---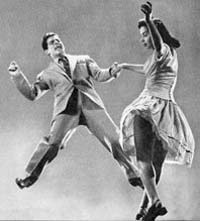 "Retro Swing" Hot Shots:
The "new" craze that's shaking the nation's youth into swinging again.
Just about any Up tempo Louis Jordan tune will work on this crowd of dancers.
Just drop in a slow one now and then (about every fifth song) to let the 'ol ticker return to a managable pace.
Many new bands are picking up on this money making group of dancers who come out in droves 500+.
The kids (and aging hipsters) are avoiding becoming their parents by becoming their grandparents
( I love that line). Anyway, here's a half dozen of the tunes I played at Midsummer Night Swing at Lincoln Center.
| | | | |
| --- | --- | --- | --- |
| Meet Me Uptown | Mighty Blues Kings | 171 Bpm | |
| Night Life Boogie | J Street Jumpers | 174 Bpm | |
| Saturday Night Fish Fry | Eddie Harrison | 177 Bpm | |
| You & Me & The Bottle Makes 3 Tonight (Baby) | Big Bad Voodoo Daddy | 230 Bpm | |
| Rockin' At Midnight | Honeydrippers | 162 Bpm | |
| Zoot Suit Riot | Cherry Poppin' Daddies | 182 Bpm | |
| Medley: Swing It | Ray Gelato and the Giants of Jive | 209 Bpm | |
---
Country Corner


Cha-Cha
Things Change
Dwight Yoakam
WCS
(92 Bpm)
OR
2-Step
(184 Bpm)
Road Tripper
Steve Wariner
2-Step
Burnin' the Roadhouse Down
Steve Wariner
Cha-Cha
Shine On
Jeff Carson
Polka
Til I See You Again
Chris Cummings
---
HOT Latin Picks:


Afro-Cuban All Stars
"A Toda Cuba le Gusta" album
Nonesuch 79476-2 (Call: 1-800-ASK TOWER)
Great choice for authentic Cuban style guaguanco Mambos and Guajira Cha-cha's*****


Africando
"Baloba!"
Sterns STCD 1082 (Call: 1-800-ASK TOWER)
Very Fast mambo/salsas with two great tunes "Demal" @ 137 Bpm & "Dacefo" @ 174 Bpm with great Clave****



---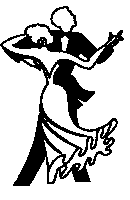 Ballroom Pick:


Casa Musica presents
The Latin Masters (original artists) album
CM-CD 012
Contact Dance Trax 517-799-0348
this album has two "hard-to-find" Matt Bianco tracks (YES, Buddy Love +) and
the super rare Disco Circus' "Dig It" Cha-Cha (makes a GREAT WCS too!)


Click here to E-Mail DJ "G"


National Association of
Rhythm & Blues Dee Jays


TOP 40 of all time
Top West Coast Swing songs

BACK TO INDEX


© 1998 This site is maintained & designed by Greg Parmerton of Displays Unlimited, NY
page was last updated August 1st, 1998